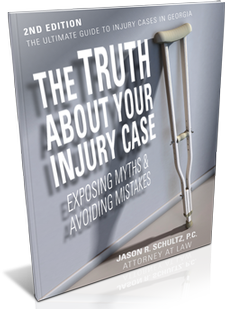 Common Mistakes and How to Avoid Them Revealed

If you have been injured in an accident, you need information. I wrote "The Ultimate Guide to Injury Cases in Georgia – The Truth about Your Injury Case" so that you understand the process much better BEFORE you hire an attorney or talk to the insurance company. Insurance company adjusters handle thousands of claims a year with one goal in mind - settling them as cheaply as possible even if you're not fairly compensated. Insurance adjustors settle injury cases for a living, but you can even the playing field by ordering this FREE book.

This book will reveal:
Why a quick settlement can be a HUGE mistake
What "service" provided by some attorneys can really hurt your claim
What documents you should never sign for the insurance company
Why your accident lawyer may need to be an expert in ERISA
Myths about accident cases and property damage
Fill out the information below to have a FREE pdf version of "The Truth about Your Injury Case: Exposing Myths and Avoiding Mistakes" immediately available to you.